About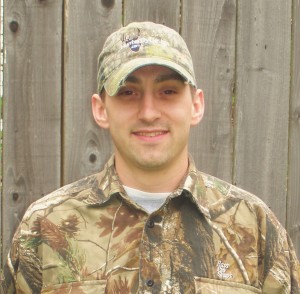 I'm a God-fearin, nature lovin, graphic designin, counselin, proud father of three living life to its fullest with the love of my life.  I was very blessed with a father that carried me out into the woods when I was still too young to get there on my own.  He instilled in me an incredible love for the outdoors and a desire to share that love with others.  I still think of him telling me to shift into four wheel drive when it came time for us to climb a steep hill.  There's hardly a better way to bond with men (& women) than to spend that quality time out in God's creation.  I've found that hunting and fishing is a means to an end of deeper relationship and that's what makes it all worth it.  Of course, I'm not going to lie to you, I seldom think of that while hunting.  I'm too busy making those slew of tiny decisions that we all know can make or break a hunt.
I grew up in north central Missouri  and as mentioned before, I began hunting at a very young age.  I shot my first turkey at age 9 and my first whitetail shortly after.  I haven't missed a season since and that includes the time-sqeezed years completing my master's degree!  In highschool I began waterfowling and I love doing that as well, although that usually takes a back seat to bowhunting.  In north central Missouri there was a lot of strip mining in years past and it was in these old spoils that the majority of my hunting and fishing have taken place.  Some of those old strip pits are the best bass fishing you'll ever do!  I don't consider myself to be an expert at anything as I've found that it's not long after one thinks he has arrived that his ship has sailed.  What I do have is a lot of experience of many, many, years of successful hunting and countless memories to go along.
Other than hunting, there is work.  I've worked in the graphic design field for the last 8 years.  I enjoy this work and have just recently done freelance work designing logos and waterfowl trailers.  I have my master's of arts degree in counseling and am working full time in this field.  I believe in working hard and living a life of integrity both at work and everywhere else.
That's a bit about me and I look forward to meeting some new friends and of course re-connecting with many other liars that call themselves outdoorsmen!
God Bless,
Nathan