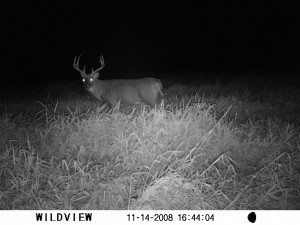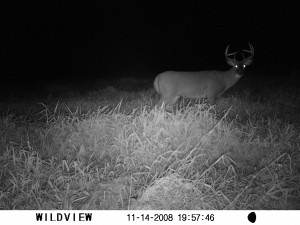 This year has already been exciting in the bow stand! I had a very close encounter with "Stickers" a couple of nights ago on Oct 11th as you can watch in the video attached.  He has all the characteristics of a 2 1/2 to 3yr old and with those genetics he needs to see another year!  I saw a total of 8 deer that evening which I would accredit to the cooler temps, acorns falling, and hunting the stand sporadically to keep it fresh.
I'm also attaching a couple other trail cam photos of one very mature shooter that doesn't have the biggest rack with the most points, but looks like a horse. This is what a big old mature north MO whitetail looks like and you can guarantee that I'm gunning for him. I'm guessing as long as he's been around, the rut will be my best opportunity for that guy! The last pic I show here is a very respectable buck that I'm guessing to be at least 3yrs old maybe 4. I can guarantee that he won't get an arrow slung at him if he comes into range as this area gets a lot of hunting pressure during rifle season.
I hope you enjoy the video – best of luck this year and as always, keep looking up to the author and giver of all life –  Jesus Christ!