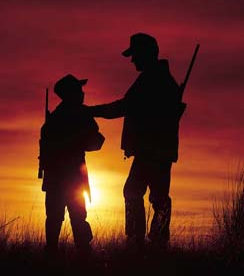 It's been awhile since I've had as much fun as I did a couple of days ago.  Most of you know me as an addicted bow hunter and I am, but I made a little time a couple of days ago for some fall turkey hunting.  My 3 yr old son is constantly asking to go hunting with me and I've taken him several times, but it's hard to make bowhunting fun for a 3yr old!  So I decided to take a break and take the little hunter with me and put it on one!
There are a group of turkeys where I bowhunt here in southwest MO that are as predictable to roost in the same area as Nancy Pelosi is to vote for a tax hike!  We were able to slip in and set up behind a big brushpile.  We weren't there 15min when they began answering me with some soft yelps and clucks. 
Long story short I ended up shooting a little hen not 10yrds away.  We hadn't hunted for more than 30 min!  Talk about perfect hunt for a 3yr old!  He did great and I couldn't have been more proud – we were both super pumped!  His big sister was awful proud of us too when we showed off our trophy back home!
Experiencing a successful hunt with your kids is a feeling second to none.  Seeing their eyes light up with excitement, knowing that you are making a memory and instilling a love that will last a lifetime, well, it just doesn't get much better! 
My advice – take a day off your chase of Mr. Big and get out there with that little guy or gal and really do something worth while!  Besides, you can get Mr. Big tomorrow!