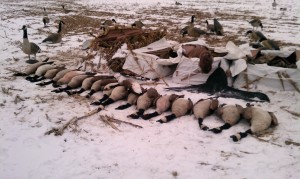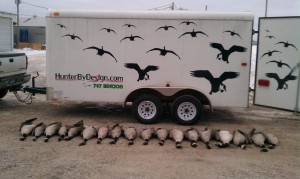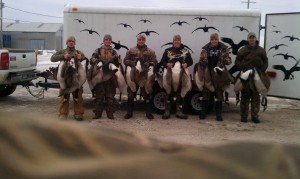 Hello fellow hunters! I apologize for my long period of silence, and quite frankly, I can't promise that it won't happen again. I am a father, husband, provider, and hunter just like you and sometimes hunter gets pushed down the priority pole. That being said, I will try to do better and must say that I truly enjoy sharing my feats and defeats with you!
As you can see, I've been doing some waterfowling this past month and I must say that I've had some pretty amazing action. These pics are from a hunt that I was on in North MO. We were hunting in a cut cornfield and thankfully for us, there was a good snow on. This was helpful in concealing our layout blinds. The corn stubble was pretty short so with the snow covers over our layout blinds, we blended in quite well. There were 6 of us hunting so in Missouri this means 18 geese to kill.
On this hunt we set out approx 5 dozen full body decoys along with a few shell decoys mixed in. At the time there were literally thousands of canadian geese in the area. It was a cold day and the stiff north wind wasn't making it any better. The first groups came in and it quickly became obvious that these geese had been shot at over decoys before. A few sailed right in landing not 15 yrds from our blinds, but the bigger groups kept swinging in and peeling off. It wasn't long before we had as many as it seemed we were going to get from those groups into range, we made the call and steel began to fly!
This became the story of the day, with groups working us low, but not quite completely committed. We would consistently get smaller groups fully committed, but the bigger groups kept wanting to land to our left or right. I'm not complaining, it was an awesome hunt it simply took a bit longer than a could've had we had geese that would fully commit. We all were able to get our 3 goose limit and even collected a band in the process! It's hard to beat the sight of approx 200 canadians locked up tornadoing down into your decoy spread! I have some video from this hunt along with a few others that I'll be sharing soon – stay tuned!!