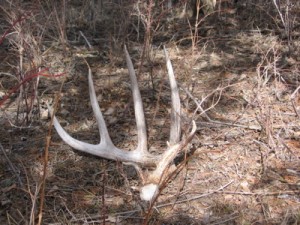 February and March can be a rough time for us avid hunters. We go from one extreme to the other. We're able to hunt most everything from October through December and then we go to pretty much nothing! Of course, there's the predator hunting which I for one really enjoy, although my success percentage is pretty dismal this year! If you're like me, your drive to be outside is still there so what do you do?
Grab your kids, your dog, maybe even your wife

and get out there and look for some sheds! So far this year I'm 0 for 2, but I've had a blast both times. It's a bit of a relief to be able to tromp through the woods without worrying about your scent, or sound or pretty much anything!
Not only is this a stress free time to be able to enjoy the great outdoors, it's also a great time to do some scouting. The vegetation is still pretty much dormant making the deer sign especially visible. Get into those sanctuaries and see where that big boy has been hiding all season!
So get out there in the woods and rediscover that child within you that still enjoys tromping through the woods – carefree, exploring what's over the next little rise. Who knows, you might even get lucky enough to find a shed.