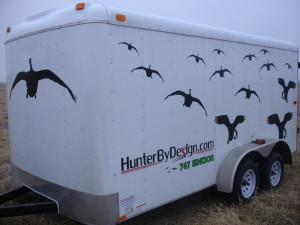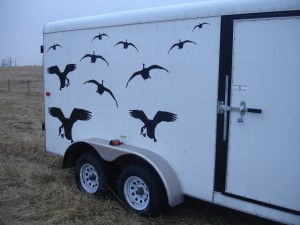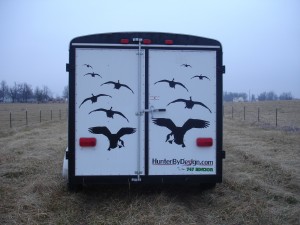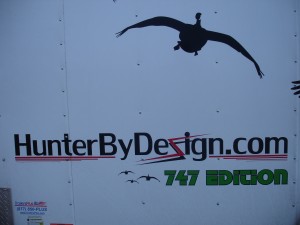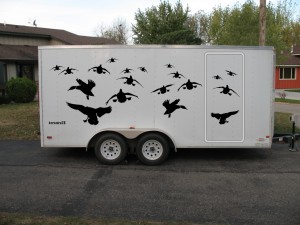 I try not to plug myself very often, but here in the past month I've had significant interest in my waterfowl trailer layouts/decals. I wanted to show a few of the projects/layouts that I've designed and give you a brief rundown of the process. As you can see from the pics, I have both geese and duck decals. All of my decals I personally traced off of pics of actual birds, so if you're looking for the cartoon style of decals these are not them. A significant amount of time was spent trying to capture the reality of the bird along with the functionality of vinyl decals.
I can do these layouts custom, meaning that if you're wanting more birds, less birds – whatever – it can be accomplished. The colors of the actual decals can also be switched up depending on your trailer color and what sort of look you are wanting. I can also design logos that can be incorporated into the layout. The logos I make are saved in all the formats that you could possibly need to do anything from letterhead, to website headers, to signs, to t-shirts, to hats, etc etc.
All the vinyls that I use are high performance which is the highest grade vinyl that can be used and in reality, the only vinyl recommended for vehicle graphics. You can definitely get graphics cheaper with economy grade vinyls, but in the long run, they become more expensive as they'll last about half as long on most applications. Sometimes I'll cut the vinyl myself and send it to you, or I also like to work with a local sign co in your area. I send them the files needed and they cut and prepare the vinyl for installation and/or install depending on what you'd prefer.
Plese feel free to contact me with any questions regarding your trailer/vehicle. Best way to reach me is by email at www.HunterByDesign@gmail.com. In the mean time, good luck hunting!!